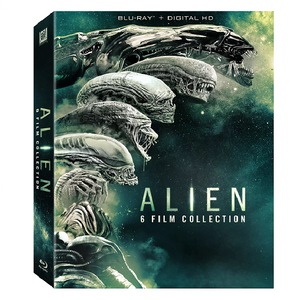 Alien 6 Film Collection [Blu-ray]
Alien 6 Film Collection [Blu-ray]
Six-disc set includes:
(1979) On it's way back to Earth, a spacecraft is re-routed to a remote planet to investigate a distress call. When a member of the landing party returns to the ship as the unwilling host of a seemingly indestructible extraterrestrial creature that bleeds acid, the crew must destroy the alien before it kills them all. Tom Skerritt, Sigourney Weaver, Ian Holm, Veronica Cartwright, Harry Dean Stanton, Yaphet Kotto, and John Hurt star in Ridley Scott's classic mix of horror and sci-fi. 116 min. C/Rtg: R
Alien's (1986) James Cameron's action-packed sequel finds Ripley (Sigourney Weaver) accompanied by a platoon of space marines as she reluctantly returns to the planet where her crew discovered the alien. But their mission to rescue a group of colonists turns into a desperate battle for survival as they find themselves up against an entire hive of the lethal creatures. Michael Biehn, Paul Reiser, Bill Paxton, Lance Henriksen also star. 137 min. C/Rtg: R
Alien 3 (1992) In the third installment in the hit sci-fi series, Lt. Ripley (Sigourney Weaver) crash-lands on a bleak prison planet inhabited by male criminals, killers, and rapists. With no weapons of any kind, Ripley and the inmates will have to find a way to kill a new breed of alien that has begun to terrorize their colony. With Charles S. Dutton, Charles Dance, and Lance Henriksen; directed by David Fincher (his feature film debut). Theatrical version; 115 min./Extended version; 144 min. C/Rtg: R
Alien Resurrection (1997) They've brought her back from the dead... but they didn't bring her back alone. Sigourney Weaver stars as the newly cloned Ellen Ripley, a mix of human and alien DNA. Trapped on a giant spaceship overrun with aliens, Ripley joins with a group of mercenaries in an effort to escape before the vessel collides with Earth. Director Jean-Pierre Jeunet's (The City of Lost Children) contribution to the sci-fi series also stars Winona Ryder, Ron Perlman, Brad Dourif, and Michael Wincott. Theatrical version; 109 min./Extended version; 116 min. C/Rtg: R
Prometheus (2012) Ridley Scott directs this smart sci-fi thriller that serves as a (sort of) prequel to his classic Alien. In the late 21st century, the discovery of a star map in the ruins of several unrelated ancient Earth cultures sends the science vessel Prometheus to a distant moon in search of humanity's origins. Instead, the crew encounters a deadly alien race that threatens mankind itself. Noomi Rapace, Michael Fassbender, Guy Pearce, Idris Elba, Logan Marshall-Green, and Charlize Theron star. 124 min. C/Rtg: R
Alien: Covenant (2017) Set 10 years after the events of quot;Prometheus,quot; director Ridley Scott's third foray into the Alien mythos finds the crew of the colony ship Covenant awakened from stasis after a shipboard accident. A transmission from a nearby planet leads them to a dark and dangerous confrontation with the facehugging, chestbursting extraterrestrial monsters. Michael Fassbender (in a dual role as androids David and Walter), Katherine Waterston, Danny McBride, Billy Crudup star in this sci-fi sequel/prequel. 122 min. C/Rtg: R

This movie is used and opened.
Used movies DO NOT include the digital copy.
Slipcovers may not be included since we do buy them from several suppliers and do not always get them with the slipcover so please assume there is not one. If there is a slip cover included we do not guarantee the condition of the slip cover.
All photos are stock photos and are not the actual picture of the item. All discs are tested. We do not allow returns of any of our used movies and are sold as is.
---
We Also Recommend