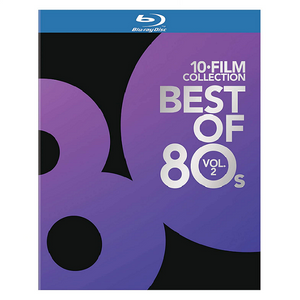 Best of 80s - Vol. 2 10-Film Collection [Blu-ray] [New & Sealed]
THE GOONIES (1985): A group of ordinary kids discover a secret treasure map, their sleepy seaport lives are suddenly transformed into a fun-filled, roller-coaster ride.
BATMAN (1989): Tim Burton directs; Michael Keaton stars as Batman; and Jack Nicholson stars as his arch foe, The Joker, in the first of the blockbuster Batman series of features.
BEETLEJUICE (1988): Emmy and Golden-Globe nominated Michael Keaton brings the title character of Beetlejuice – the "Ghost With the Most" –to life, so to speak. THE
COLOR PURPLE (1985): Based on Alice Walker's Pulitzer Prize-winning novel, The Color Purple is a richly-textured, powerful film set in America's rural south. THE
NEVERENDING STORY (1984): Based on the acclaimed best-seller about a troubled boy who discovers an extraordinary storybook-and the fantastical world within its pages.
POLTERGEIST (1982): Steve Freeling moves his family into a new house in development and it looks like things are going well. But as his wife and his children begin to unpack strange things start happening.
THE OUTSIDERS: The Complete Novel (1983): S.E. Hinton's beloved novel of teens from the wrong side of the tracks, directed by Francis Ford Coppola, featuring Matt Dillon, Tom Cruise, Rob Lowe, Patrick Swayze and other young stars.
GREMLINS (1984): A small town is besieged by some furry and not-so-cute little creatures after a young man ignores the warnings of a wise elder regarding their care and feeding.
NATIONAL LAMPOON'S VACATION (1983): Chevy Chase mans the wheel and convinces his all-American family that the way to really enjoy their holiday is to hit the road west for Wally World.
LITTLE SHOP OF HORRORS (1986): A skid-row florist's "mean green mother" of a monster plant is the center of "the looniest, nuttiest, most outrageous movie musical comedy in years".
This Movie is Brand New and Factory Sealed. All photos are stock photos and are not the actual picture of the item. We can not accept returns of any movies once they are opened.
---
We Also Recommend