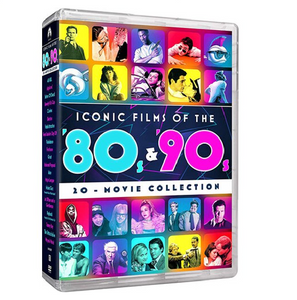 Iconic Movies of the 80s and 90s 20-Movie Collection [DVD] [New & Sealed]
20 totally awesome, and way essential movies from the 1980s and 1990s, all in one collection on DVD, including 48 Hrs., Airplane!, An Officer and a Gentleman, Better Off Dead, Beverly Hills Cop, Clueless, Election, Fatal Attraction, Ferris Bueller's Day Off, Flashdance, Footloose (1984), Ghost, Indecent Proposal, Juice, Major League, Payback, The Naked Gun: From the Files of Police Squad!, The Untouchables, Tommy Boy and Wayne's World.
This Movie is Brand New and Factory Sealed. All photos are stock photos and are not the actual picture of the item. We can not accept returns of any movies once they are opened.
---
We Also Recommend