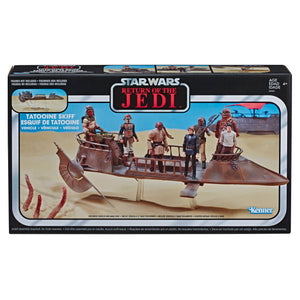 Jabbas Tatooine Skiff - Star Wars Return of the Jedi Vintage Collection
From the comfort of his barge on Tatooine, Jabba the Hutt orders his men to make Luke Skywalker walk the plank of the Desert Skiff.
Waiting below Luke is the mouth of the toothy desert monster, the Sarlacc. On board the skiff with Jabba's cronies and Skywalker are a few of the Jedi's trusted allies. Battle commences and Luke, Han Solo, Chewbacca, and Lando Calrissian attempt to fight off the Hutt Crime Syndicate and make their escape.
With this Star Wars The Vintage Collection Tatooine Skiff, the stage is set for fans to recreate this classic Return of the Jedi battle and imagine new adventures.
This ultra-detailed Star Wars The Vintage Collection Jabba's Tatooine Skiff Vehicle features movie-inspired design, adjustable and removable parts, and sturdy, clear display stand. Scaled to fit multiple 3.75-inch-scale action figures (each sold separately), the skiff makes an ideal addition or beginning to any Star Wars toy collection.
Fans can also look out for other Star Wars The Vintage Collection toys.
Also available from Episode VI Return of the Jedi are 3.75-inch-scale action figures of Jabba's Tatooine Skiff crew! Each sold separately.
EPISODE VI RETURN OF THE JEDI COLLECTIBLE VEHICLE – Inspired by Jabba's Tatooine Skiff featured in Star Wars: Episode VI Return of the Jedi. This ultra-detailed Vintage Tatooine Skiff is a great addition to any Star Wars toy collection. Designed to fit a cast of 3.75-inch-scale character action figures (each sold separately), this movie-inspired vehicle will delight fans of the original Star Wars Trilogy.
ADJUSTABLE, REMOVABLE PARTS – The Tatooine Skiff is designed to tilt on its display stand and features moveable rudders and an extendable gangplank. An intact railing can be replaced with one designed for character figures like Han Solo and Luke Skywalker to dangle from. Deck panels can be removed to reveal delicately designed engine details. This Star Wars The Vintage Collection vehicle is more than just a display item.
LOOK FOR OTHER ITEMS FROM STAR WARS THE VINTAGE COLLECTION – Look out for other Return of the Jedi toys and imagine more Star Wars saga action! Sold separately. Subject to availability.Includes: vehicle, base, and instructions.
Items may show minor paint or packaging imperfections, so we do not consider these defects. While we strive to deliver the best condition, we cannot accept returns due to minor flaws or minor package damage. Thank you for understanding.
Stock photos are used for listing purposes.
All items are original and are in their original packaging.
---
We Also Recommend