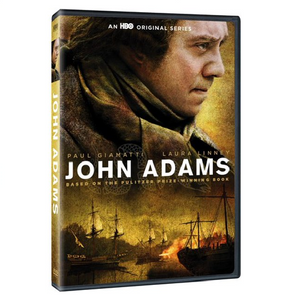 John Adams [3 Discs] [DVD] [2008] [New & Sealed]
He is one of America's least understood and most underestimated Founding Fathers, the second President of the United States, John Adams. From HBO Films comes this sprawling seven-part miniseries event that depicts the extraordinary life of one of the primary shapers of our independence and government. Starring Paul Giamatti as Adams and Laura Linney as his wife Abigail, the miniseries chronicles the man who played a pivotal role in fostering the American Revolution and laying the building blocks of a republic--but whose legacy has often been eclipsed by more flamboyant contemporaries like George Washington, Thomas Jefferson, Alexander Hamilton and Benjamin Franklin. Also with Tom Wilkinson, Stephen Dillane, David Morse, Danny Huston, Rufus Sewell, Sarah Polley, Justin Theroux and Guy Henry.
This Movie is Brand New and Factory Sealed. All photos are stock photos and are not the actual picture of the item. We can not accept returns of any movies once they are opened.
---
We Also Recommend