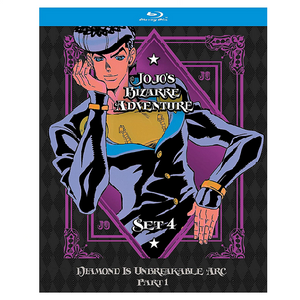 Jojos Bizarre Adventure Set 4 Diamond is Unbreakable Part 1 [Blu-ray] [New & Sealed]
JoJos Bizarre Adventure Set 4: Diamond Is Unbreakable Part 1 (Limited Edition) (BD): Eleven years have passed since Jotaro Kujo defeated Dio, the Joestar family's archnemesis. In the year 1999, Jotaro travels to a Japanese town called Morioh to seek out Josuke Higashikata, the secret love child of his grandfather, Joseph Joestar. Upon finding him, Jotaro discovers that Josuke also possesses a Stand. As if drawn by an unknown force, new Stand users begin to appear all across town, threatening the lives of the innocent, including Josuke's loved ones. Swearing to protect the people living in his hometown, Josuke must now stand against the evil that lurks within Morioh.
This Movie is Brand New and Factory Sealed. All photos are stock photos and are not the actual picture of the item. We can not accept returns of any movies once they are opened.
---
We Also Recommend