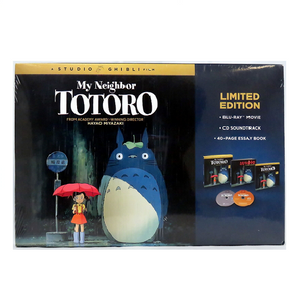 My Neighbor Totoro Limited Edition Box Set [Blu-ray] [New & Sealed]
This superbly animated children's tale is directed by Hayao Miyazaki, one of Japan's most beloved animators. The story follows Satsuke and Mei, two young girls who find that their new country home is in a mystical forest inhabited by a menagerie of mystical creatures called Totoros. They befriend O Totoro, the biggest and eldest Totoro, who is also the king of the forest. As their girls' mother lies sick in the hospital, O Totoro brings the sisters on a magical adventure but also helps them to understand the realities of life. Like most films released by Miyazaki's Studio Ghibli, this family-oriented feature has a powerful ecological theme. The English-language version of this film wasn't dubbed until many years later, explaining the presence of actors such as Dakota Fanning in the cast (who wasn't even born until 1994).
This Movie is Brand New and Factory Sealed. All photos are stock photos and are not the actual picture of the item. We can not accept returns of any movies once they are opened.
---
We Also Recommend