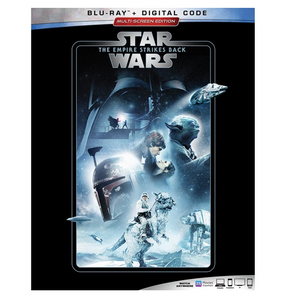 Star Wars Empire Strikes Back [Blu-ray] [1980] [No Digital Copy]
Star Wars Empire Strikes Back [Blu-ray] [1980] [No Digital Copy]
The second entry in George Lucas' Star Wars trilogy finds Luke Skywalker (Mark Hamill), the green-as-grass hero from the first film, now a seasoned space warrior. Luke's Star Wars cohorts Han Solo (Harrison Ford) and Princess Leia (Carrie Fisher) are likewise more experienced in the ways and means of battling the insidious Empire, as represented by the brooding Darth Vader (body of David Prowse, voice of James Earl Jones). And, of course, "The Force," personified by the ghost of Luke's mentor Ben Kenobi (Alec Guinness), is with them all. Retreating from Vader's minions, Luke ends up, at first, on the Ice Planet Hoth, and then the tropical Dagobah. Here he makes the acquaintance of the gnomish Yoda (voice of Frank Oz), whose all-encompassing wisdom comes in handy during the serial-like perils of the rest of the film. Before the film's open-ended climax, we are introduced to the apparently duplicitous Lando Calrissian (Billy Dee Williams) and are let in on a secret that profoundly affects both Luke and his arch-enemy, Vader. Many viewers consider this award-winning film the best of the Star Wars movies, and its special-effects bonanza was pure gold at the box office.
This movie is used and opened.

Used movies

DO NOT

include the digital copy.

This item comes with its original case, artwork, and any applicable discs that were included.

These discs are authentic USA Region discs.
Slipcovers may not be included since we do buy them from several suppliers and do not always get them with the slipcover
SO PLEASE ASSUME THERE IS NOT A SLIPCOVER
. If there is a slip cover included we do not guarantee the condition of the slip cover.
All photos are stock photos and are not the actual picture of the item. This item

WILL NOT CONTAIN A DIGITAL COPY

. All discs are tested. We do not allow returns of any of our used movies and are sold as is.
---
We Also Recommend