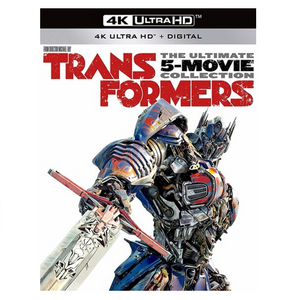 Transformers The Ultimate Five Movie Collection [4K Ultra HD Blu-ray] [No Digital Copy]
Transformers The Ultimate Five Movie Collection [4K Ultra HD Blu-ray] [No Digital Copy]
Transformers An ancient struggle between two Cybertronian races, the heroic Autobots and the evil Decepticons, comes to Earth, with a clue to the ultimate power held by a teenager.
Transformers: Revenge of the Fallen Sam Witwicky leaves the Autobots behind for a normal life. But when his mind is filled with cryptic symbols, the Decepticons target him and he is dragged back into the Transformers' war.
Transformers: Dark of the Moon The Autobots learn of a Cybertronian spacecraft hidden on the moon, and race against the Decepticons to reach it and to learn it's secrets.
Transformers: Age of Extinction From director Michael Bay comes the best 'Transformers' ever! With humanity facing extinction from a terrifying new threat, it's up to the Autobots to save Earth. They'll need new allies, including inventor Cade (Mark Wahlberg) and the Dinobots!
Transformers: The Last Knight Our world's greatest hero becomes our fiercest enemy when Optimus Prime launches a mission to save Cybertron by destroying Earth. Now Bumblebee and Cade Yeager (Mark Wahlberg) must lead the Autobots in the ultimate battle to save mankind.
This movie is used and opened.

Used movies

DO NOT

include the digital copy.

This item comes with its original case, artwork, and any applicable discs that were included.

These discs are authentic USA Region discs.
Slipcovers may not be included since we do buy them from several suppliers and do not always get them with the slipcover
SO PLEASE ASSUME THERE IS NOT A SLIPCOVER
. If there is a slip cover included we do not guarantee the condition of the slip cover.
All photos are stock photos and are not the actual picture of the item. This item

WILL NOT CONTAIN A DIGITAL COPY

. All discs are tested. We do not allow returns of any of our used movies and are sold as is.
---
We Also Recommend