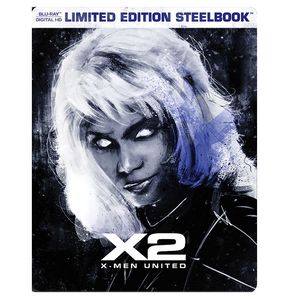 X2 X-Men United [Blu-ray] [SteelBook] [2003]
When a failed assassination attempt occurs on the President's (Cotter Smith) life by the teleporting mutant Nightcrawler (Alan Cumming), it's Professor Xavier (Patrick Stewart) and his School for Gifted Youngsters who are targeted for the crime. While Jean Grey (Famke Janssen) and Storm (Halle Berry) try and locate the assassin, Cyclops (James Marsden) and Xavier (also known as 'Professor X') seek answers from their old foe Magneto (Ian McKellan) in his glass cell...Little do they know they're walking into a trap set by the villainous William Stryker (Brian Cox), a mysterious governmental figure that figures into Wolverine's (Hugh Jackman) secretive past, along with information about the X-Men's operation, supplied by Magneto through a mind-controlling agent. Meanwhile Wolverine, just home from a failed mission to regain his memory, is in charge of the students when a crack-commando team led by Stryker infiltrates the school by order of the President. With a mansion full of young, powerful mutants and the ferocious Wolverine in babysitter mode, can he defend the school against the one man who can answer his questions? What roles do the sinister Mystique (Rebecca Romijn-Stamos) and Lady Deathstrike (Kelly Hu) have in all of this? Why does Stryker want Professor X and his Cerebro machine? With the war between humanity and mutants escalating to extremes, can the rest of the X-Men trust their old foes to help them? Director Bryan Singer returns and raises the stakes in this sequel to the highly lauded 2000 adaptation of Marvel Comics' X-Men.

This movie is used and opened.
Used movies

DO NOT

include the digital copy.

Slipcovers may not be included since we do buy them from several suppliers and do not always get them with the slipcover,

SO PLEASE ASSUME THERE IS NOT A SLIPCOVER

. If there is a slip cover included we do not guarantee the condition of the slip cover.
All photos are stock photos and are not the actual picture of the item. This item

WILL NOT CONTAIN A DIGITAL COPY

. All discs are tested. We do not allow returns of any of our used movies and are sold as is.
---
We Also Recommend