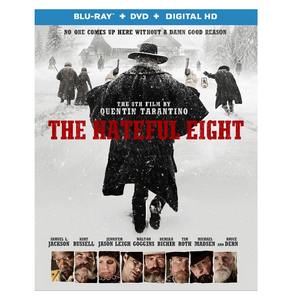 The Hateful Eight [Blu-ray/DVD] [2015]
The Hateful Eight [Blu-ray/DVD] [2015]
The Hateful 8 is set 6 or 8 or 12 years after the Civil War in wintery Wyoming, and a blizzard is coming. Bounty Hunter John Ruth is trying to get his bounty, Ms. Daisy Domergue (Dah-mer-goo), to the town of Red Rock where she's scheduled to be brought to justice. Along the way he and his wagon driver Olie pick up two strangers; another bounty hunter and former union soldier, Major Marquis Warren, and a former southern renegade who claims to be the new mayor of Red Rock, Chris Mannix. The impending storm has forced them to stop at Minnie's Haberdashery, a stagecoach stopover on a mountain pass. When they arrive at Minnie's, they are not greeted by the proprietor but by four strangers. As the storm takes over the mountainside cabin our eight travelers come to learn they may not make it to Red Rock after all.
This movie is used and opened.

Used movies

DO NOT

include the digital copy.
Slipcovers may not be included since we do buy them from several suppliers and do not always get them with the slipcover so please assume there is not one. If there is a slip cover included we do not guarantee the condition of the slip cover.
All photos are stock photos and are not the actual picture of the item. This item

WILL NOT CONTAIN A DIGITAL COPY

. All discs are tested. We do not allow returns of any of our used movies and are sold as is.
---
We Also Recommend