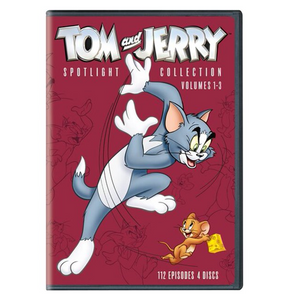 Tom and Jerry Spotlight Collection Vol 1-3 [4 Discs] [DVD] [New & Sealed]
Trends come and go...but the chase is eternal, just like the evergreen appeal of animation's supreme cat-and-mouse team! This second volume of Tom and Jerry's cartoon capers boasts 37 classic shorts. This delicious assortment covers their golden years. Get ready to duck, weave, jump and laugh as the hapless feline and the wily rodent take each other on. VOLUME 3 Tom may catch Jerry on occasion, but no one really believes the adorable little mouse will come to harm. After all, it would mean the end to the most popular and beloved cat-and-mouse act in show business. This is the third and final collection of theatrical shorts, showcasing 35 classic cartoons, 15 remastered in their original CinemaScope widescreen format. Tom and Jerry remain the friskiest animated adversaries of all time. Catch them if you can. The Tom and Jerry legacy chases through every nook and cranny of the classic animation pantheon, spanning six decades and several famous directors. Looney Tunes icons Friz Freleng, Tex Avery and Chuck Jones all played their part. But the enduring cat-and-mouse team was the brainchild of William Hanna and Joseph Barbera. Their first short, Puss Gets the Boot (in which Tom was called Jasper), was released with little fanfare. When unleashed on audiences, their hilariously diabolical rivalry delighted everyone. This set of 40 restored and remastered shorts includes nine Academy Award nominees and seven winners.
This Movie is Brand New and Factory Sealed. All photos are stock photos and are not the actual picture of the item. We can not accept returns of any movies once they are opened.
---
We Also Recommend