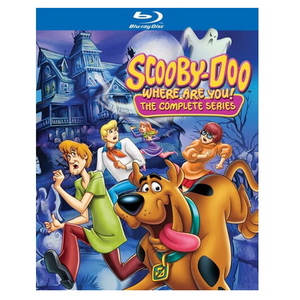 Scooby-Doo Where Are You The Complete Series [Blu-ray] [New & Sealed]
The world's most lovable, mystery-solving dog, along with his best friend Shaggy and the rest of the gang, stars in a spooky and laugh-filled collection of classic cartoons featuring the one and only Scooby-Doo. Scooby, the clumsy and cowardly canine, instinctively runs from things that go bump in the night. But this globe-trotting Great Dane solves monstrous mysteries and unravels ghostly goings-on like no one else. And even in the middle of the scariest situation, Scooby and Shaggy find time to satisfy their craving for their favorite food--pizza! So, watch out villains! Scooby-Doo is on your trail, and he always captures his quarry and solves the puzzle. But there's nothing puzzling about finding fun and excitement--just sit back, have a Scooby snack and enjoy the zany animated antics of the wacky dog detective.
This Movie is Brand New and Factory Sealed. All photos are stock photos and are not the actual picture of the item. We can not accept returns of any movies once they are opened.
---
We Also Recommend