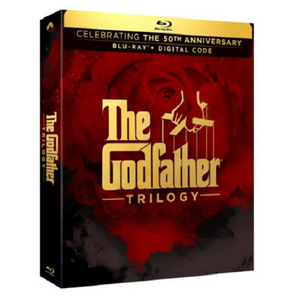 The Godfather Trilogy [Blu-ray] [No Digital Copy]
The Godfather Trilogy [Blu-ray] [No Digital Copy]
The Godfather (1972)Director Francis Ford Coppola's landmark adaptation of Mario Puzo's best-selling novel of Mafia life in 1940s New York earned Academy Awards for Best Picture, Best Adapted Screenplay, and Best Actor. Marlon Brando stars as aging mob boss Don Vito Corleone, who weighs the appointment of a rightful successor to head his quot;family businessquot; from among his three sons: hot-headed first-born son Sonny (James Caan), weak-minded Fredo (John Cazale), and college-educated war hero Michael (Al Pacino). With Robert Duvall, Diane Keaton, Talia Shire, Richard Castellano
The Godfather, Part II (1974)Director Francis Ford Coppola and novelist Mario Puzo's story of the Corleone clan continues, as new boss Michael (Al Pacino) launches a violent campaign to extend his family's power, while flashbacks of a young Vito (Robert de Niro) depict his arrival at Ellis Island to his rise to Mafia prominence and his return to Sicily on a mission of vengeance. The superb sequel film that earned six Oscars, including Best Picture, Director, and Supporting Actor co-stars Robert Duvall, John Cazale, Diane Keaton, Talia Shire, Lee Strasberg.
Mario Puzo's The Godfather, Coda: The Death Of Michael Corleone (2020)Francis Ford Coppola's painstaking 30th anniversary restoration/re-edit of quot;The Godfather, Part III,quot; the stunning third installment in his crime saga, finds a weary 60-year-old Don Michael Corleone (Al Pacino) attempting to go straight for his family's sake and to finalize a complex business deal with the Vatican. However, as Corleone tries to get out, quot;they pull [him] back in,quot; with tragic consequences. Co-stars Diane Keaton, Andy Garcia, Talia Shire, Sofia Coppola, Eli Wallach, George Hamilton, Joe Mantegna.
This movie is used and opened.

Used movies

DO NOT

include the digital copy.

This item comes with its original case, artwork, and any applicable discs that were included.

These discs are authentic USA Region discs.
Slipcovers may not be included since we do buy them from several suppliers and do not always get them with the slipcover
SO PLEASE ASSUME THERE IS NOT A SLIPCOVER
. If there is a slip cover included we do not guarantee the condition of the slip cover.
All photos are stock photos and are not the actual picture of the item. This item

WILL NOT CONTAIN A DIGITAL COPY

. All discs are tested. We do not allow returns of any of our used movies and are sold as is.
---
We Also Recommend